Motonobu Isoya, President and CEO of NTT DATA Global Solutions Corp., talks to Gernot Kapteina, Founder of OYSTEC, about his life lessons in terms of what skills a true global leader needs as well as the growth process of Japanese companies becoming more global.
Nobu-san, thank you very much for doing this interview! You are the President and CEO of NTT DATA Global Solutions Corp. in Japan. The journey there must have been very fascinating. Can you tell our readers how it all came about?
Isoya-san: Thank you very much for the opportunity for the interview. Sure, I will do.
I studied at the University of Tokyo. My major was Precision Engineering. I then joined NTT in 1986 and had my first global assignment as early as 1989, when I was sent to Boeing Computer Services as an AI trainee. At that time, the prevailing opinion in the Japanese IT industry was to learn from the American companies such as IBM, Sun, Oracle and Microsoft.
I would say that this was the first era of Japanese IT companies becoming global. Hereby, globalization implied that global unification meant that an organization has to be managed and operated like a U.S. company.
During this time, I became proficient in English fairly quickly, while I still had to continue to focus on domestic business in parallel. In fact, as an English-speaking engineer from Japan, I was often invited to meetings and business trips that had to do with overseas business partners.
Working in a global environment as a native Japanese must have been both interesting and challenging for you. Do you remember a particular situation where you were thrown in at the deep end?
Isoya-san: Yes. When I became Executive Manager of the NTT DATA HR department, I was ordered to hold the first Global Leadership Program 2009 in Ettlingen, Germany. It was a big challenge not only for me, but also for the other Executive HR Managers in our regional sister companies, carrying out the training project for multinational next leaders from all over the world.
Since then, I have also actively participated in other multinational conferences, especially in the APAC region, and gradually a high level of international conference management and English business communication has become the norm for companies with Japanese headquarters roots.
What were your next steps to become an SAP Leader in NTT DATA in Japan?
Isoya-san: I continued my career path at NTT DATA Corp. and eventually became Senior Vice President (SVP) and Head of the Manufacturing IT Innovation Sector. After that, I became President and CEO of NTT DATA Global Solutions Corp. in 2018 because I had already been deeply involved in NTT DATA's SAP business in Japan and had also established connections with our global SAP businesses.
That is impressing. Now, the title of this interview is chosen by you: You also want to talk about the opening of the Japanese economy to international business and the role of a leader. Considering your experience, what are your insights?
Isoya-san: We talk about 30 years of experience, and it always comes back to few points. My first thought is that multinational companies need experienced professional leaders who understand different cultures and communication styles. And I believe that only leaders who deeply understand and empathize with multinational employees are true global leaders.
I still remember that one of the events that made a big impact on me was when a CIO who was my client has led a multinational team with people from 14 different countries as a Project Manager.
His English and presentations were very clear and his ability to communicate with the multinational members was very impressive. He was an English gentleman, but he spoke of the need for true global leaders to have the ability to communicate clearly to their non-native English-speaking members. He was exactly the role model for a professional leader that I referred to.
Understood. If we look now at not just human leadership, but organizations that are outgrowing themselves and becoming more global, how would you characterize the globalization path of NTT DATA? In all of this, it was also the NTT DATA world that shaped you very much.
Isoya-san: Exactly, and this brings me to my second thought. To understand the globalization of large Japanese companies, taking NTT DATA as a role model, I'd like to refer to the Bartlett and Ghoshal Matrix, which compares aspects of global integration and local responsiveness.
Graphic: The Bartlett and Ghoshal Matrix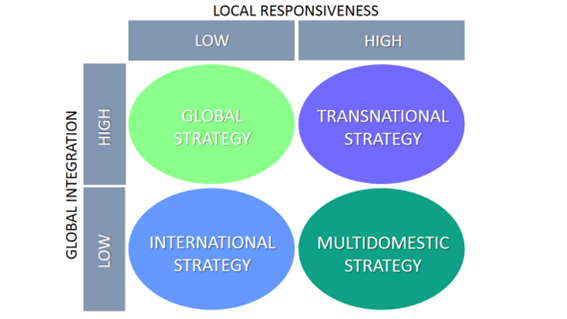 Copyright: Bartlett, Goshal, 1989, Harvard Business School Press
As NTT DATA, we have moved within this matrix. Initially, we were very local, and only in the early 2000s did we start to go global by buying foreign IT companies to accelerate our overseas operations. But instead of adopting Global Strategy of unified operations around the world from the start, as U.S. companies have done, we adopted Multidomestic Strategy.
We would say that NTT DATA Group's M&A strategy was a kind of "agricultural" style. That is, we acquired top local companies in each country and let them join our group, such as itelligence AG, everis, et cetera. And we have supported their own growth. Over the years, we have incorporated them into NTT DATA Group and, together, we have developed into a multinational company.
I would not yet say that we have really achieved Transnational Strategy in line with the matrix. We are currently in the process of striving to maximize the effects of global synergies as a cross boarder company with the goal of becoming one of the world's five largest IT companies.
The "SAP Global One Team", which you know well and in which I was one of the executive members, was a pioneer in this field. I believe that global synergies and next global leaders will emerge from these activities.
A comprehensive perspective. Let me ask you one last question: If one were to look in your passports, how many countries have you traveled to during your business life?
Isoya-san: I have traveled more than 55 times to over 14 countries. Most often to the United States, followed by Germany, Singapore, China and the United Kingdom. As it does look like we're getting a handle on the Corona pandemic, I would like to start traveling soon again.
Nobu-san, thank you very much for the interesting interview.
Copyright: NTT DATA, NTT DATA Global Solutions, SAP, Oracle, Microsoft, itelligence, everis and other company names and products mentioned are registered trademarks of the respective companies.